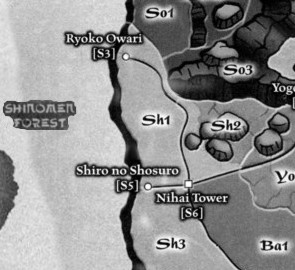 The Ryoko province (Sh1) was the Shosuro province extending from the southernmost border of the Kinbou province (So1), to the northernmost border of the Kawa province (Sh3), and the westernmost borders of the Yuma (So3) and Kakushikoto provinces (Sh2), being enveloped in the west by the River of Gold, which separated to the plains bordering the Shinomen Forest. Notable locations within the province was the second biggest city of the Empire, Ryoko Owari Toshi (S3). [1] The most densely populated region in the entirety of the Scorpion Clan's territory, it was covered in rice paddies and poppy fields. [2]
References
Ad blocker interference detected!
Wikia is a free-to-use site that makes money from advertising. We have a modified experience for viewers using ad blockers

Wikia is not accessible if you've made further modifications. Remove the custom ad blocker rule(s) and the page will load as expected.