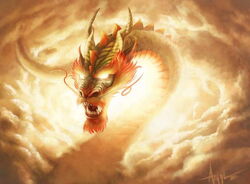 Ryoken was a dragon emissary of the Elemental Dragons in the Mortal Realm. [1]
Appearance
Edit
Ryoken was merely an aspect of the Dragon of Fire's power. [1]
Creation of the Elemental Oracles
Edit
After the sons and daughters of the Sun and Moon walked Ningen-do the eyes of Tengoku turned to this distant realm, and the mortal who lived there were favored among the Celestial Heavens. What would be known as Rokugan was filled with the kami, servants of the great Elemental Dragons. Ryoken came to the mortal realm over the rolling hills that would one day be the Agasha provinces. Five mortals were gathered there and Ryoken told them they had been honored by choosing them to bear a fragment of Elemental Dragon's essence. They would be their eyes in this realm, their immortal Oracles. Their power would be beyond measure, and the Dragons should gain a foothold in this world. [1]
Summoned
Edit
In 1167 the Grand Master of the Elements was at the Temple of the Seven Dragons in the City of Remembrance. He wished to knew why the dragons favored this place, but Ryoken did not tell the history of the first Oracles. [1]
External Links
Edit
References