Ryokan's Sword 
Created by:
Unknown
First used by:
Unknown
Currently in the possession of:
Unknown
Nemuranai
Ryokan's Sword ensouled the spirit of Kakita Kamiko, who had been killed by the ronin bandit Ryokan. During the Clan War the blade forced Ryokan to step in during a Shadowlands attack against a peasant village, killing many tainted creatures but fell next to the body of his final foe, the village saved. The blade has a special purpose of defending the weak, and expected all wielders to live up to its own high standards of honor and justice. [1] [2]
Known Wielders
Edit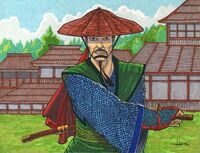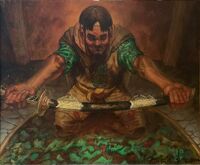 External Links
Edit
References
Ad blocker interference detected!
Wikia is a free-to-use site that makes money from advertising. We have a modified experience for viewers using ad blockers

Wikia is not accessible if you've made further modifications. Remove the custom ad blocker rule(s) and the page will load as expected.