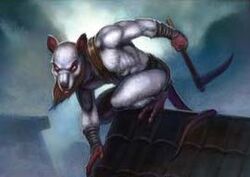 Rus'tik'tik was a nezumi Rememberer of the One Tribe. It joined the Those Who Wait Tribe on the Day After Tomorrow.
Deathless Edit
Rus'tik'tik was part of the Deathless' crew, at the order of I-m'jek. In 1170 the Deathless, captained once again by Ikoma Otemi, discovered a lost treasure, the ancient Library of the Kitsu race within an island the Lion claimed for their own, and named Shima no Quehao. [1]
Day After Tomorrow
Edit
Rus'tik'tik was one of those nezumi who survived the Day After Tomorrow. On that day he joined the new tribe known as Those Who Wait, and taught the few other rememberers many tales, including those of that walked like blue men who were really ghosts. [2]
External Links
Edit
References
Ad blocker interference detected!
Wikia is a free-to-use site that makes money from advertising. We have a modified experience for viewers using ad blockers

Wikia is not accessible if you've made further modifications. Remove the custom ad blocker rule(s) and the page will load as expected.