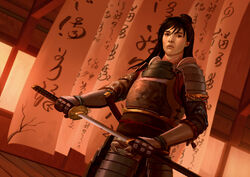 The Ruby Champion was a title bestowed upon the samurai who was deemed to have a most excellent knowledge of Imperial Law and kenjutsu. [1]
The Ruby Champion was selected by the Emerald Champion from a number of applicants, and served at the Emerald Champion's discretion. [2] He had a small estate adjoining the Castle of the Emerald Champion. [3] The Ruby Champion served as a sensei to the Emerald Magistrates in the Ruby Dojo, and the position brought glory and honor to the bearer of the title. [4]
Takai's Replacement
Edit
Utaku Takai was the Ruby Champion until his retirement, at which point he sought for the person who would replace him. Takai believed he would be replaced because his connections with the Khan Moto Chagatai, currently defeated and shamed in 1169. [4] He eventually decided upon Yasuki Miliko as his successor, [5] who followed in her station after the Shosuro Jimen became the new Emerald Champion.
Minor Ruby Championships
Edit
The Divine Empress Iweko I ordered the Ruby Champion to hold his tournament on an annual basis, not to replace the Champion, but to give the samurai of the Empire an outlet for their competitive natures, and to provide opportunities for advancement. Each year would hold a tournament of the sort normally used to fill the position, and the winner of these tournaments would become favored vassal of the Ruby Champion. [2]
Colonies
Edit
In 1199 the Ruby Champion declared a tournament among the greatest Emerald Magistrates and Imperial Legionnaires, looking for the finest warriors to lead the Emerald Champion's endeavors in the Colonies. [6]
Known Ruby Champions
Edit
This is a list of known Ruby Champions:
Known Technique
Edit
External Links
Edit
References
Ad blocker interference detected!
Wikia is a free-to-use site that makes money from advertising. We have a modified experience for viewers using ad blockers

Wikia is not accessible if you've made further modifications. Remove the custom ad blocker rule(s) and the page will load as expected.