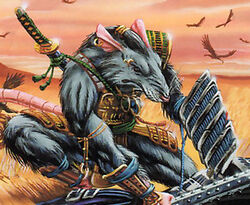 Ruantek was a nezumi Scout of the Grasping Paw Tribe.
Preparations of the Winter Court
Edit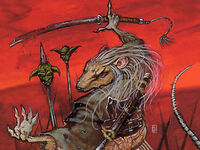 When the Four Winds issued invitations to the Emperor's Winter Court, the location of the court was to be left in the hands of the representatives of the Great Clans.[1] Ruantek was the nezumi who was chosen to vie for their favor of one of the Winds. [2]
Ruantek coloured four chips, one for each Wind; "Kaneka - red. Tsudao - black. Naseru - gold. Sezaru- white". They choose one chip randomly, and the selected colour was the Wind they would support for Emperor.[2]
Failed Winter Court
Edit
After a Pekkle no Oni attack was prevented the court was over. [3] Ruantek scampered up the wall to hide, and holed up there several hours. From his vantage point he watched man in a black hood, Miya Gensaiken, walking with Isawa Sezaru, The Wolf. Only Hours later the Steel Throne disappeared in a cloud of greasy smoke and laughter. [4]
External Links
Edit
References
Ad blocker interference detected!
Wikia is a free-to-use site that makes money from advertising. We have a modified experience for viewers using ad blockers

Wikia is not accessible if you've made further modifications. Remove the custom ad blocker rule(s) and the page will load as expected.