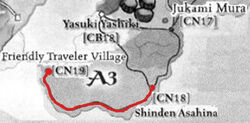 The Route of Perfect Contentment was the coastal road that connected Shinden Asahina (CN18) to Friendly Traveler Village (CN19). It followed the coast along the south edge of the Fields of the Morning Sun, well worn from the all the trading traffic to and from Friendly Traveler Village. [1]
References
↑ Secrets of the Crane, p. 16
Ad blocker interference detected!
Wikia is a free-to-use site that makes money from advertising. We have a modified experience for viewers using ad blockers

Wikia is not accessible if you've made further modifications. Remove the custom ad blocker rule(s) and the page will load as expected.