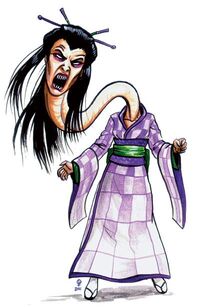 Rokuro-kubi was a supai creature with a long snake neck and sharp fangs.
Appearance and Abilities
Edit
The creature combined features of a serpent with human appearance, with its long neck. It could coil around an opponent to squeeze or strangle him to death. Under most circumstances Rokuro-kubi were indistingishable from humans. [1]
Known Rokuro-kabi
Edit
References
↑ D&D Oriental Adventures, p. 191