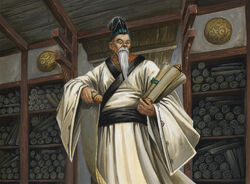 Rokkaku, Masters of Scrolls was a Void monk who joined the Scorpion Clan.
Rokkaku once was a scribe serving the Phoenix Clan who came into the personal service of the Master of Water, Asako Bairei. Under the tutelage of that peerless scholar, Rokkaku learned to love research and knowledge. [1]
Rokkaku joined the Brotherhood of Shinsei and for two decades he practiced his traits in its service, becoming one of the order's greatest scholar. His mastery of theological and historical information was vast. [1]
Colonies
Edit
Rokkaku was among the Brotherhood's greatest authorities on the origins and philosophies of the Fudo cult, and for this reason he was selected to be among those agents of the Brotherhood deployed to the Colonies to fight this threa.t [1] In 1198 he and seven other fellow monks traveled together to the Colonies. [2] Rokkaku offered himself as advisor to the [3] Scorpion Clan. Rokkaku knew that secrets were more precious than any treasure. [4]
External Links
Edit
References
Ad blocker interference detected!
Wikia is a free-to-use site that makes money from advertising. We have a modified experience for viewers using ad blockers

Wikia is not accessible if you've made further modifications. Remove the custom ad blocker rule(s) and the page will load as expected.