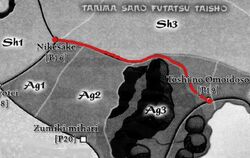 The Road of Lion Tears was the road that connected Nikesake (P16) to the City of Remembrance (P19). It was so named because Matsu Hitomi used this road on her approach to the City of Remembrance. [1]
War of Fire and Snow
Edit
When allied Lion forces withdrew from Phoenix lands during the War of Fire and Snow in 1159, one of the two remaining groups of Lion advisors was stationed in Nikesake. When news arrived that Shiba Aikune had destroyed the other group for perceived cowardice, it was down this road that the Lion advisors strategically withdrew from Phoenix lands to the coast, where Ikoma Otemi's Deathless ferried them back to their home provinces. [1]
References
Ad blocker interference detected!
Wikia is a free-to-use site that makes money from advertising. We have a modified experience for viewers using ad blockers

Wikia is not accessible if you've made further modifications. Remove the custom ad blocker rule(s) and the page will load as expected.