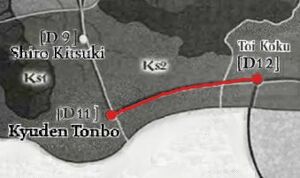 The Road of Concordant Peace was the road that connected Kyuden Tonbo (D11) to Toi Koku (D12). This well traveled road had seen many improvements to accommodate the increased traffic it saw after Toshi Ranbo became the Imperial City. The Dragonfly originally requested its name as a beginning to the peace or negotiation process that visitors to their lands would need to go through. [1]
References
↑ Secrets of the Dragon, p. 15
Ad blocker interference detected!
Wikia is a free-to-use site that makes money from advertising. We have a modified experience for viewers using ad blockers

Wikia is not accessible if you've made further modifications. Remove the custom ad blocker rule(s) and the page will load as expected.