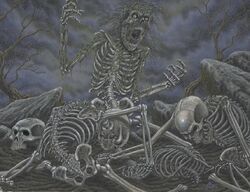 Rise from the Ashes was an exhausting Void ritual Spell of Mastery 6 [1] that was cast on a single individual or item, and neither the target or the shugenja might move during the casting. When the spell was complete, all corrupting effects and damage inflicted on the target during the last hours were negated; even the Shadowlands Taint could be retroactively negated. It could not undo death or repair a broken nemuranai, because the soul or the kami were removed from the target. [2]
External Links
Edit
References
Ad blocker interference detected!
Wikia is a free-to-use site that makes money from advertising. We have a modified experience for viewers using ad blockers

Wikia is not accessible if you've made further modifications. Remove the custom ad blocker rule(s) and the page will load as expected.