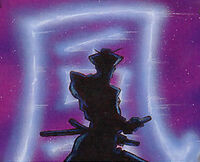 Ring of Air was a Mastery 6 air spell [1] which allowed the shugenja to make a mystical dome tracing the air kanji, which radiated shimmering blue light. While within the dome the shugenja would dispel enemy spells or turn them against their caster while. The dome of protection moved along with the caster. [2]
External Links
Edit
References
Ad blocker interference detected!
Wikia is a free-to-use site that makes money from advertising. We have a modified experience for viewers using ad blockers

Wikia is not accessible if you've made further modifications. Remove the custom ad blocker rule(s) and the page will load as expected.