A Ring Sword was a yobanjin wide-bladed sword that were adorned with rings along the back, [1] [2] designed by the famous swordsmithing Wenfu. [3] The rings could be used to grapple an opponent's weapon, giving them an advantage in combat. Swords of Yobanjin make were weaker than those of Rokugan, and could in fact shatter against a katana strike. [4] It was similar to the Rokugani parangu, albeit considerably larger. [5]
See also
Edit
External Links
Edit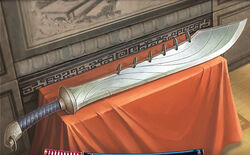 References
Ad blocker interference detected!
Wikia is a free-to-use site that makes money from advertising. We have a modified experience for viewers using ad blockers

Wikia is not accessible if you've made further modifications. Remove the custom ad blocker rule(s) and the page will load as expected.