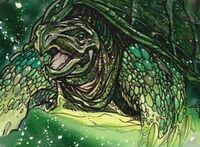 The tortoise, a land-dwelling reptile shielded with a shell, was the wisest of all the creatures under the Celestial Heavens. [1] The rikugame was favored creature of both Suitengu, Fortune of the Sea, and Jurojin, Fortune of Longevity. [2]
Sacred Tortoise
Edit
The Kasuga came into possession of an ancient tortoise, and their records showed it had been in their care since the founding of their clan, making it the oldest mortal being in the Empire. Some allegued it was the creature in which the fabled Someisa was transformed after she talked to Shinsei. [3]
Tortoises in the Art
Edit
Artisans often displayed tortoises in netsuke with hexagonal shapes, sometimes with dizzying arrays of smaller hexagons hidden within the art-form. In Rokugani culture the minogame or "straw raincoat turtle" was named thusly because its tail resembled a farmer's straw coat. [2]
See Also
Edit
External Links
Edit
References
↑ Secrets of the Empire, p. 101