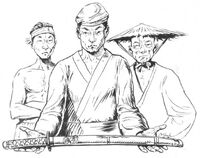 Riku was a bushi of the Mantis Clan. He was appointed as the local yoriki of the village of Kashi. In 1123 pirates were harassing the Shipping Lanes between the Mantis and the Crane, and strange and hunting wailings could be heard after dark coming from the waters of the nearby Bay of Dark Water. He gave assistance to a group of Emerald Magistrates who were hunting the pirates. [1]
See also
Edit
References
↑ Midnight's Blood, pp. 32-33
Ad blocker interference detected!
Wikia is a free-to-use site that makes money from advertising. We have a modified experience for viewers using ad blockers

Wikia is not accessible if you've made further modifications. Remove the custom ad blocker rule(s) and the page will load as expected.