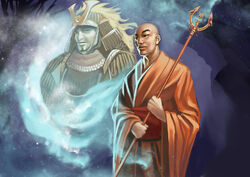 Riddles directed the Elements through a body, thus changing the target in some way, which made it use very, very dangerous. [1]
Riddles after the Reexamination of Henshin Philosophy
Edit
The henshin studied the nature of the kami as they progressed upon the Path of Man in an effort to find their own unique brand of enlightenment. Where the henshin once attempted to "trick" the kami into acting in a way of their choosing, they later had a better understanding of the kami and did not need to deceive them. However, the kami still enjoyed the wit of their mortal companions, so henshin masters are taught how to spin a riddle to impress and amuse the kami. [2]
References