Rice
Talk

0
21,353pages on
this wiki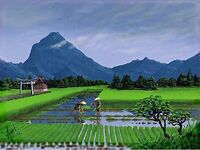 Rice was the most common food source in Rokugan. They were measured in bushels, and approximately five bushels were considered enough to feed a man for a year. The Rokugani economic system was based on this principle, one koku coin being worth five bushels of rice.[1]
Rice cultivation was labor-intensive and remained a task that could not be accomplished easily. As a result, families pooled their labor in order to meet the demands of the samurai caste. Most families shared their water resources and irrigation facilities, which required that water run downhill. [2]
Yoritomo sailors believed that rice tossed into the ocean helped ward off dark forces that prowled the seas. [3]
Types of Rice
Edit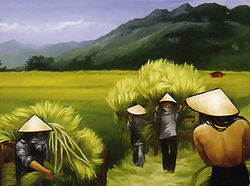 References
↑ Legend of the Five Rings; Third Edition, p. 38
↑ GM's Survival Guide, p. 15
↑ Secrets of the Mantis, p. 5