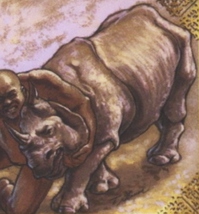 Rhinoceroses were big creatures with a nicknamed pair of horns sprouting from their snouts. The Utogu no Oni resembled them in a bizarre way. [1] These hervibore mammals had a thick gray hide and lived in the open plains of the northern Ivory Kingdoms. The rhinoceros was notoriously ill-tempered and extremely aggressive. They became a popular hunting choice for samurai in the Colonies, sometimes for its rhino horn, which its powder was credited with a variety of medicinal qualities. [2]
See also
Edit
References
Ad blocker interference detected!
Wikia is a free-to-use site that makes money from advertising. We have a modified experience for viewers using ad blockers

Wikia is not accessible if you've made further modifications. Remove the custom ad blocker rule(s) and the page will load as expected.