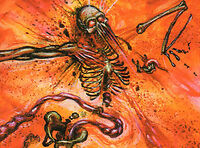 The Return of the Fallen Lord was a Mastery 5 maho spell which ripped a soul from a target corpse from its place in the afterlife and forced it back into its mortal shell. It was under the will of Fu Leng, retaining his skills and memories. Isawa's original spell allowed a summoned ancestor to take physical form and fight for his bloodline. [1]
References
↑ Time of the Void, pp. 125-126
Ad blocker interference detected!
Wikia is a free-to-use site that makes money from advertising. We have a modified experience for viewers using ad blockers

Wikia is not accessible if you've made further modifications. Remove the custom ad blocker rule(s) and the page will load as expected.