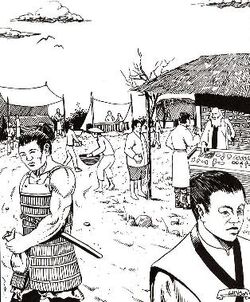 The Kaiu Road was constructed by the Kaiu, primarily for moving troops quickly along the Kaiu Kabe, and it was the only road in Crab territories that samurai from other clans were allowed to pass freely along. [1]
Peddler's Row
Edit
Over the last thousand years the road had become more of a hotbed of merchants, tradesmen and hucksters looking to profit from the heavy traffic, and it had become known as Peddler's Row. A man could hardly walk twelve yards without passing another merchant, and there were also frequent appearances by impromptu geisha houses and jugglers. Almost all of the businesses along the road were controlled by the Yasuki. They were very strict about who could set up shop there and the Crane are completely banned. [2]
References
Ad blocker interference detected!
Wikia is a free-to-use site that makes money from advertising. We have a modified experience for viewers using ad blockers

Wikia is not accessible if you've made further modifications. Remove the custom ad blocker rule(s) and the page will load as expected.