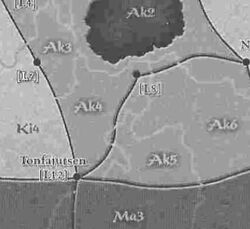 The Renga province (Ak4) was the southwestern Akodo province. It was bordered in the north by the Henkyou province (Ak3) and Kokoro province (Ak2), in the east with the Ken-ryu province (Ak6) and Shimizu province (Ak5), in the south with the Tonfajutsen province (Ma3), being enveloped in the west with the Foshi province (Ki4). Notable locations within the province included Rengai Mura. [1]
The province, which was home to the private estate of the Akodo Daimyo, was named for a strain of red-brown wheat which only grew there; its appearance could remind the viewer of either blood or clay. [2]
References
Ad blocker interference detected!
Wikia is a free-to-use site that makes money from advertising. We have a modified experience for viewers using ad blockers

Wikia is not accessible if you've made further modifications. Remove the custom ad blocker rule(s) and the page will load as expected.