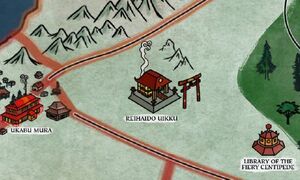 The Uikku Shrine (P13) was an ancient shrine built in honor of the prophet Uikku [1] whose interpretations and prophecies regarding the Tao of Shinsei had been studied for centuries. The entire area around the shrine, including the large plain, Heigen Yogensha, surrounding it were considered sacred. [2]
Location
Edit
The Shrine of Uikku was located in the Yogen province [3] on a great plain in the western Phoenix lands. No major roads connected the holy site to the rest of the Empire, and pilgrims must walk, as the rocky ground was dangerous to horses. [4]
The Defenders of Uikku
Edit
A group known as the Defenders of Uikku once tried to prevent the Dooms Uikku prophesied, [5] but eventually returned to Uikku Shrine with a handful of Asako Henshin after most of the defenders had died on the Day of Thunder. A new prophet appeared, known only by the name Rei, which was given to her by the monks of the shrine who found her. Her prophecies, like the later prophecies of Uikku, spoke of a dark time when Fu Leng had been triumphant and come to conquer all of Rokugan. Her prophecies were kept at this shrine as well. [6]
References
Ad blocker interference detected!
Wikia is a free-to-use site that makes money from advertising. We have a modified experience for viewers using ad blockers

Wikia is not accessible if you've made further modifications. Remove the custom ad blocker rule(s) and the page will load as expected.