The Shrine of Shinsei was the most famous of all shrines in Rokugan. The exact location was uncertain and seemed to change from one era to another. [1]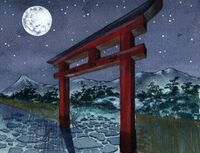 The Crow Shrine (A13) was a shrine dedicated to the animal most associated with Shinsei, the Crow. When Shinsei and the Seven Thunders needed a scout when they entered the Shadowlands the crow, a bird with a white chest and beautiful colored wings volunteered. Even though the crow survived the journey it was forever blackened by the powerful forces that passed between the Thunders and Fu Leng. Since then crows had been regarded as birds of omen, ever watchful of troubles ahead. [2]
Finding the Shrine
Edit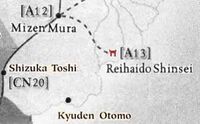 Only those who were pure of heart and true devotion could find Shinsei's Shrine. It was said that those who did find the shrine learn Shinsei's greatest secrets from the Kenku. [2]
External Links
Edit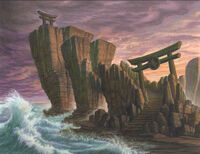 References
Ad blocker interference detected!
Wikia is a free-to-use site that makes money from advertising. We have a modified experience for viewers using ad blockers

Wikia is not accessible if you've made further modifications. Remove the custom ad blocker rule(s) and the page will load as expected.