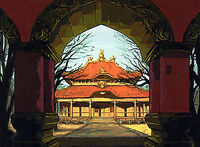 Shiba's Shrine was devoted to the kami Shiba.
Location
Edit
The shrine was located deep within Shiro Shiba, occupying an inner courtyard filled with trees transplanted from Mori Isawa. It was a beautiful and simple shrine, carved entirely from stained and polished lengths of wood and held together in a puzzle-like fashion. The wood pieces interlocked with one another to hold the structure together, though they could be pushed in the proper way to be moved out of place — a subtle metaphor of how Shiba saw both the Elements of the universe and the role of man. [1]
His sandals and his writing brush was stored inside the shrine. Shiba recorded the Tao with this very brush, and it was in these sandals that he knelt before Isawa and later traversed the length of the Shadowlands to rescue Shinsei and Shosuro. [1]
Soul of Shiba
Edit
In the time when the Soul of Shiba chose the Phoenix Clan Champion, the newly-chosen Champion meditated for days in the shrine while the Soul of Shiba whispered the secrets of a thousand years into his soul. More than one such Champion was driven into madness by this practice, quickly ending his reign as daimyo. [2]
External Links
Edit
References
Ad blocker interference detected!
Wikia is a free-to-use site that makes money from advertising. We have a modified experience for viewers using ad blockers

Wikia is not accessible if you've made further modifications. Remove the custom ad blocker rule(s) and the page will load as expected.