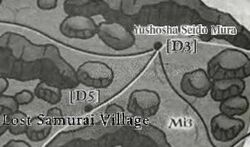 Refugee Path was the road that connected Champion Shrine Village (D3) to Lost Samurai Village (D5). This morbidly named road drew its meaning from the refugees who fled Maigo no Samurai Mura after the Kami's Wrath erupted in 1155. Before it was an unnamed path that connected the village with Champion Shrine Village to the north. [1]
References
↑ Secrets of the Dragon, p. 31
Ad blocker interference detected!
Wikia is a free-to-use site that makes money from advertising. We have a modified experience for viewers using ad blockers

Wikia is not accessible if you've made further modifications. Remove the custom ad blocker rule(s) and the page will load as expected.