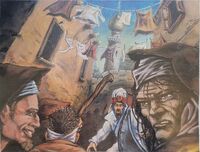 Redemption's Court was located in the Last Stop at Medinaat al-Salaam. [1] It was a dangerous place, where a visitor could be "judged" and obliged to be "redeemed" by the villains, thieves, or murderers who lived there. [2] It was said that those who entered risked judgement for their indiscretions. No one went there unless they were longing for a new beginning or an early end. [1]
External Links
Edit
References
Ad blocker interference detected!
Wikia is a free-to-use site that makes money from advertising. We have a modified experience for viewers using ad blockers

Wikia is not accessible if you've made further modifications. Remove the custom ad blocker rule(s) and the page will load as expected.