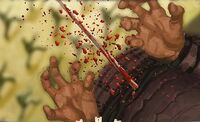 The Red Crane Dojo taught the Bayushi Saboteur and Bayushi Bushi schools. It was located just north of Cherry Blossom Lake in the Shinomen Forest. [1]
Founding
Edit
Once a minor school within the much larger Bayushi Bushi Academy, the Dojo of the Red Crane earned its name in the 10th century when one of the sensei remarked that their students "do to warfare as the Crane have done to the iaijutsu duel, force the enemy into an unfair fight." When the school was large enough that it needed its own separate dojo, the master sensei christened the dojo with this remark. [1]
Naga Race Awakens
Edit
The secluded location within a haunted forest left the dojo far from casual observers, also giving the perfect training ground for the students. When the Naga awakened, spells of confusion and misdirection kept them away. [1]
Scorpion Exile
Edit
The dojo remained active during the exile of the Scorpion Clan in the Burning Sands, being the saboteurs very active. Since that time, attendance at the school nearly doubled. [1]
Tradition
Edit
Most Red Crane students attended Bayushi Bushi schools or the Shosuro Ninja dojo for reasons of practicality. It helped the student to understand the capabilities of his cousins, and plan accordingly. No student of the dojo would claim exactly where they had studied or under whom. [1]
Training
Edit
The first year was harsh for the students, and they were called uki. Hard exercises while the group was sabotaged in the most inventive ways imaginable made it a private hell for them. The second year the true training as saboteurs began, included explosives. The gempukku involved only conception and planning, and the final test was to steal a detailed layout of a castle's structure and battle defenses, or create one from a first-hand tour of the building. [2]
Benefits
Edit
The Bayushi saboteurs were masters of discerning weaknesses and turning them into the Scorpion's gain, and fond of causing enemies to repeat their mistakes. [3]
The sensei was always an accomplished soldier and graduate of the school, promoted from within the school by a meeting among all the sensei of the dojo. The master sensei had always been chosen by a unanimous decision that the council of sensei reached within a day. [3]
Notable Sensei
Edit
Notable Students
Edit
External Links
Edit
References
↑ Way of the Ninja, pp. 28-29
Ad blocker interference detected!
Wikia is a free-to-use site that makes money from advertising. We have a modified experience for viewers using ad blockers

Wikia is not accessible if you've made further modifications. Remove the custom ad blocker rule(s) and the page will load as expected.