Raya was a raven-haired gipsy Ra'Shari resurrected caretaker, Seer of the Second Chronicle. [1]
Ra'Shari Leader
Edit
In 1132 Raya was the Ra'Shari de facto Leader after the death of the Living Memory. [2]
Erba'a Alliance
Edit
Raya joined the Erba'a Alliance and fought in 1132 in the Shattering of the Jewel. She used her magical abilities to allow every member of the alliance be free to speak in his native tongue. [2]
She took Shalimar, as her student, [3] who became the Dancer of the First Chronicle. [4] When Shalimar made contact with the foreigners the Senpet had imprisoned in 1130, she retrieved a heavy circle of glass, which she passed to the Old Man of the Mountain, leader of the Assassins [3] following the orders of Raya and Moto Jangir. [5]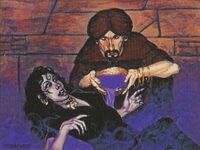 Soul entrapped
Edit
Raya was attacked by the Jackals and her soul entrapped in a Soul Jar. Her allies of the Qabal performed a ritual which would try to release the soul from where it was, or they would kill Raya trying. [6]
Capture of Moto Jangir
Edit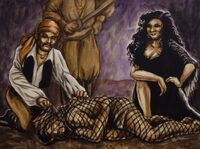 Raya recovered, and she had learned the true nature of Jangir, as member of the Jackals. To deny his hold in humankind the Ra'Shari captured him. [7]
External Links
Edit
Raya (LBS - The Awakening)
References
Ad blocker interference detected!
Wikia is a free-to-use site that makes money from advertising. We have a modified experience for viewers using ad blockers

Wikia is not accessible if you've made further modifications. Remove the custom ad blocker rule(s) and the page will load as expected.