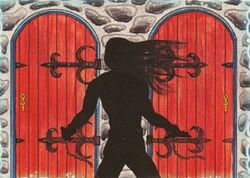 Rawif somehow had been imprisoned in The Palace's dungeons, during the ruling of the Immortal Caliph. He managed to escape, and during his flight he stood in front of two doors. One led to freedom, and the second to certain death. [1] It was not known what happened to him.
References
Ad blocker interference detected!
Wikia is a free-to-use site that makes money from advertising. We have a modified experience for viewers using ad blockers

Wikia is not accessible if you've made further modifications. Remove the custom ad blocker rule(s) and the page will load as expected.