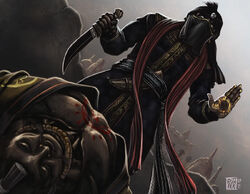 Rata was a gaijin member of the Cult of Ruhmal.
Hunting the Shadow Dragon's minions
Edit
In 1191 Rata began hunting down minions of the Shadow Dragon. An increasing number of Goju and Ninube corpses were found twisted and desiccated as if they had been dried in the sun or drained of all fluids. The Spider Clan Champion Daigotsu Kanpeki ordered Rata be found and captured alive if possible. [1]
External Links
Edit
References
Ad blocker interference detected!
Wikia is a free-to-use site that makes money from advertising. We have a modified experience for viewers using ad blockers

Wikia is not accessible if you've made further modifications. Remove the custom ad blocker rule(s) and the page will load as expected.