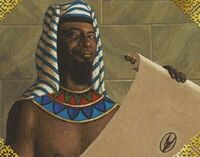 Ramontet was a Senpet Strategist. He became a member of the Jackal in secret.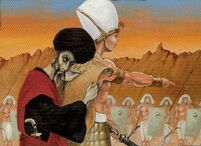 Ramontet became the trusted military advisor of the Pharaoh Hensatti. She could not act without his advice. [1]
The Jewel
Edit
In 1130 Hensatti made an alliance with the Immortal Caliph of Medinat al-Salaam. She sent several of her best men there as representatives, including the general Abresax, Kepsat, and Hekau. [2]
The Jackal sought to undermine the Senpet power, and recruited Ramontet to join them. It was not known why he did it. [3]
Awakening
Edit
In 1132 Ramontet disappeared from his post with some of the Senpet Empire's heirlooms. Months later he resurfaced as a general of the Jackals and fought against the Senpet guards at Medinaat al-Salaam. [4]
Ramontet's fate
Edit
The Jackals were crushed by the Celestial Alliance after the Awakening, followed by persecution from the Ebonites afterward, and they fell into a deep and extended period of decline. [5] It was not known what happened with Ramontet.
External Links
Edit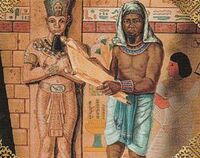 References
Ad blocker interference detected!
Wikia is a free-to-use site that makes money from advertising. We have a modified experience for viewers using ad blockers

Wikia is not accessible if you've made further modifications. Remove the custom ad blocker rule(s) and the page will load as expected.