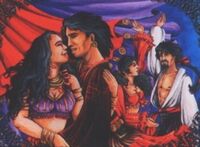 Ra'Shari Dancers were acrobats, thieves, seductresses, they had called many names. The members of a Ra'Shari dance troupe were often viewed with awe as well as fear. They came and went as they pleased, often giving incredible shows to their audiences, and often leaving the same audience minus a few trinkets. [citation needed] They were part of the Great Caravan of Entertainment. [1]
External Links
Edit
References
↑ Legend of the Burning Sands Roleplaying Game, p. 181
Ad blocker interference detected!
Wikia is a free-to-use site that makes money from advertising. We have a modified experience for viewers using ad blockers

Wikia is not accessible if you've made further modifications. Remove the custom ad blocker rule(s) and the page will load as expected.