Ad blocker interference detected!
Wikia is a free-to-use site that makes money from advertising. We have a modified experience for viewers using ad blockers

Wikia is not accessible if you've made further modifications. Remove the custom ad blocker rule(s) and the page will load as expected.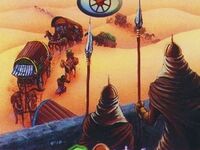 The Ra'Shari Caravans were moved with horses or camels through the Burning Sands. They wandered over the desert as traders, entertainers, or mystics. All the Ra'Shari people lived within the caravans as nomads. [1]
Splintering
Edit
When the Ra'Shari began their travels, they formed the First Caravan. [2] The first years of wandering were hard, many of the Ra'Shari died under the sun, or under the despair of his new life. They endured, faded and grew, until a moment they called the Splintering. They were too many to travel as one caravan and split it in four caravans. They walked different roads, but remained in contact and even traded goods and children with each other whenever their paths would cross. [3]
External Links
Edit
References
↑ Legend of the Burning Sands Roleplaying Game, pp. 175, 179-181
↑ Legend of the Burning Sands Roleplaying Game, p. 180
↑ Legend of the Burning Sands Roleplaying Game, p. 178