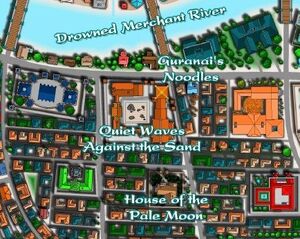 Quiet Waves Against the Stand was the Phoenix embasy at Toshi Ranbo. It was a quiet place within the Kurai District. There were no retaining walls there, as the complex was surrounded by a set of residences conjoined into an outer perimeter. The central audience chambers were at the far side from the entrance, and had a view of the most impressive rock garden in all of Toshi Ranbo, which gave the feeling as if one had walked into a temple when coming there. [1]
References
↑ Strongholds of the Empire, p. 125
Ad blocker interference detected!
Wikia is a free-to-use site that makes money from advertising. We have a modified experience for viewers using ad blockers

Wikia is not accessible if you've made further modifications. Remove the custom ad blocker rule(s) and the page will load as expected.