Qer Apet was the Senpet Berserker [1] commander of the Medinaat al-Salaam's city guard, [2] He became the Bearer of the Jidan and Keeper of the Chronicle. [3]
Qer Apet believed that Hekau convictions would only get the sahir killed. [2]
City Guard
Edit
Qer Aper and his guard maintained the order at the city. He detained the Janan Twins when the sisters were fighting against a khadi in the Ghassan's gambling house, [2] and Hekau, a Senpet renegade. [4]
Story to complete
Edit
Qer Apet became the holder of the Harik's Ruby. From behind an old woman cast the spell Forget, and when she left, the immense ruby was there. Qer Apet would remind to complete the story. [5] The woman was most probably a Ra'Shari.
Keeping the Chronicle
Edit
In 1132 after the dead the former Keeper, the Living Memory, Qer Apet became the new Keeper of the Chronicle. [3]
The Jidan whispered to Qer Apet during his dreams, teaching him what had happened since the beginning of known time. Part of the history Qer Apet told to Pashal, a squire Ebonite friend of him. [3]
Awakening
Edit
This year an ancient prophecy, the Awakening, had been fulfilled, and it fuelled a serie of evenements at the Jewel. The Sultan and the Caliph Hanan Talibah had been died, the Houses of Dahab had embargoed the city and the population suffered starvation and was revolting everywhere. Nepherus, the Senpet ambassador, and Adira, Old Man of the Mountain's adopted daughter, were trying to end the riots. [6]
City of Bronze
Edit
Qer Apet was at the City of Bronze when the Jinn Lord Kaleel and his legion attacked it. It was one of the first citadels to fall after the Awakening. Few survivors of the crash returned to Medinat al-Salaam to speak of the horrors that Kaleel had unleashed from the Black Earth and beyond, and those that did shared little hope for the rest. Pashal sought Qer Apet, because he did not believe the Senpet would have died. [3]
External Links
Edit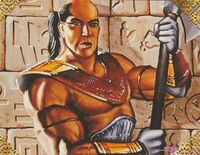 References
Ad blocker interference detected!
Wikia is a free-to-use site that makes money from advertising. We have a modified experience for viewers using ad blockers

Wikia is not accessible if you've made further modifications. Remove the custom ad blocker rule(s) and the page will load as expected.