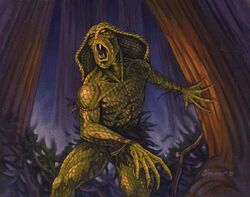 The Purusha was a Naga Hunter, scout and an abomination.
The Purusha was an accomplished member of his caste and rivaled even the Isha stalkers in stealth. In 1130, disappeared his old friend and ally, the Emperor Toturi I. The Naga learened that those being held responsible, the Scorpion, were not being killed. The Qamar ordered a force of Naga that would ensure that none of the untrustworthy humans slipped away as they marched into the Burning Sands, led by Purusha and his scouts. [1]
Entering the Sands
Edit
His group killed several of those who attempted to sneak back into Rokugan from the Sands. Should a Naga cross the cursed Burning Sands, something there turned them into tortured Abominations that were almost completely cut off from the Akasha, the Naga comuna mind. The Purusha commanded his followers to return, and entered the Burning Sands to warn the Rokugani guardian, The Gohei, of what he had learned from the Scorpions he had killed. [1]
Abomination
Edit
Overcame by the changes, the Purusha did not reach the humans in time, and he fled back towards Rokugan. He gained two human-shaped legs and was barely connected to the Akasha. He found the Shinomen Mori nearly empty, as his kin had removed themselves from their alliance with the Crab and they marched now upon the lands of the Dragon Clan, in the Siege of Sleeping Mountain. [1]
Hunting Bansdits
Edit
The forest had become an easy target for bandits, and the Purusha began to hunt down and kill the thieves. When the Naga's war was done, he had been promised by the Akasha, his brothers and sisters would grant him the final mercy of death and rebirth. [2]
See also
Edit
External Links
Edit
References