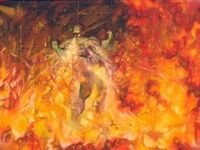 Purity of Shinsei was a Mastery 5 mystical fire kiho that allowed a monk to gain absolute control over his inner fire, and could summon it. When activating the kiho the monks skin glowed with the light of a bonfire, and lasted for several hours (or until the monk wished it to end). Shadowlands creatures, minions of the Lying Darkness or natives or Gaki-do or Jigoku suffered an irrational sense of fear while inside the radius. [1] [2]
External Links
Edit
References
Ad blocker interference detected!
Wikia is a free-to-use site that makes money from advertising. We have a modified experience for viewers using ad blockers

Wikia is not accessible if you've made further modifications. Remove the custom ad blocker rule(s) and the page will load as expected.