Puja al-Rahbi, the "Believer", was the son of Adira and succeeded his mother in the position of Caliph as Puja I in 1155, after she stepped down due to health problems, [1] and clearly continuing the same policies. [2]
Puja was a popular figure among both tke court and tkh common folk of Medinaat al-Salaam and known for his foolhardy adventures. [1] The Assassin Traditionalists attempted to take his life. [3]
Ruhmalist temple
Edit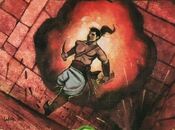 Somehow Puja managed to enter into a Ruhmalist temple. He retrieved an idol which was behind a pillar of light. [4] The ruhmalists noticed the robbery and found him with the idol in his hands. [5] Puja escaped aided by Adnan, the Robber, while they were pursued by the Ruhmalist goddess, Kali-Ma the Destroyer. [6]
Puja married with a former khadi, San'a. In 1155 his mother retired, and he became the Caliph. The same year the couple had a son, Adnan, [1] who bore this name to honor his uncle Adnan, the Robber. [7] In 1167 his mother Adira passed away. [1]
Ambassador from Rokugan
Edit
In 1169 Puja requested for a representative of the Dragon Clan in Medinaat al-Salaam. The Dragon Clan Champion Togashi Satsu sent word that a Dragon ambassador would head for his city. [8]
External Links
Edit
Sources Conflict
The sources relating to this article are in conflict with each other.
In the fiction The Haze of Time happened in 1169 the Caliph was treated as female. In the "Legend of the Burning Sands Roleplaying Game, Chapter 2 - Medinaat Al-Salaam" Puja was the Caliph at that time, and was male.--Oni no Pikachu 22:07, December 19, 2011 (UTC)
References
Ad blocker interference detected!
Wikia is a free-to-use site that makes money from advertising. We have a modified experience for viewers using ad blockers

Wikia is not accessible if you've made further modifications. Remove the custom ad blocker rule(s) and the page will load as expected.