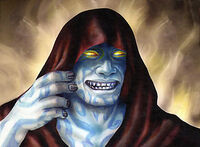 The Prophet of the Dark Lotus was the title the mad Ise Zumi Kokujin used to refer himself. In 1166 the descendant of Shinsei, Rosoku foresaw two possible future paths. One was a "Bright Lotus" path, and the other was a "Dark Lotus" path. Kokujin believed Rosoku was the prophet of the bright one, and himself the prophet of the Dark one. [1] [2]
References
Ad blocker interference detected!
Wikia is a free-to-use site that makes money from advertising. We have a modified experience for viewers using ad blockers

Wikia is not accessible if you've made further modifications. Remove the custom ad blocker rule(s) and the page will load as expected.