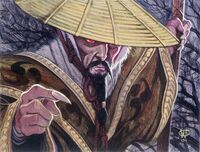 Katsu was the son of Shiba Katsuda and Soshi Jomyako, the Dark Oracle of Air.
He was raised by his father alone, who never gave up to the Taint, while his mother did. When his father died, Katsu used the Dark Covenant of Earth to summon the Dark Oracle of Earth and used his wish to rebuild the Sunset Tower. Afterwards, Nokatsu took him to serve Daigotsu.
Though Katsu was forced to swear fealty to the Dark Lord, he never lost his desire to not fall to the Taint. Even when he would be very loyal to Daigotsu, Katsu managed to contact a samurai called the Crane Clan to receive refugees of the Shadowlands that, just like him, wouldn't be willing to submit their minds to the Taint.
Eventually, Daigotsu became aware of Katsu's activities so he took him in his travel to the Burning Sands. There, Daigotsu turned him into a khadi, so he could understand better his enemy and control Katsu effectively.
Ad blocker interference detected!
Wikia is a free-to-use site that makes money from advertising. We have a modified experience for viewers using ad blockers

Wikia is not accessible if you've made further modifications. Remove the custom ad blocker rule(s) and the page will load as expected.