The Porcelain Mask of Fu Leng was a powerful nemuranai created and worn by Fu Leng, but was later lost for centuries. It was a mask of great power that would overcome those too weak to contain its energy within their body.
Abilities
Edit
The power of the mask was undeniable, but when placed upon a face it sealed itself to flesh and bone, and could not be removed without killing the wearer. [1]
Creation
Edit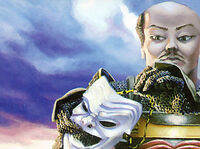 The Mask was made by Fu Leng himself. [2] He wore it on the first Day of Thunder. [3]
Yogo Junzo
Edit
Yogo Junzo returned from the Shadowlands carrying this strange artifact, and claimed that it once belonged to the Dark Kami. [1]
Garen's Discovery
Edit
The mask was found in 1156 by Garen Hawthorne who presented it to Daigotsu. [4]
Fall of Otosan Uchi
Edit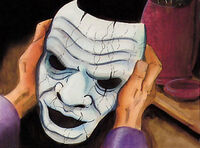 The mask played a vital part in Daigotsu's attack on Otosan Uchi. Daigotsu used Toturi Sezaru's mask to open a portal to Meido. Daigotsu then challenged Emma-O, the Fortune of Death and guardian of Meido. Emma-O impaled Daigotsu, but Daigotsu was able to place the mask on Emma-O's face. Knowing he would die if the mask was not removed, Emma-O acceded to Daigotsu's demands and released Fu Leng from Meido. Fu Leng healed Daigotsu and was able to use Sezaru's mask to ascend to Tengoku, his old home, and launch the Invasion of the Celestial Heavens. [2]
Gift to the Emperor
Edit
In 1167 Daigotsu sent Daigotsu Soetsu to the Imperial Court to petition Toturi III for status as a clan. [5] As a gift, Daigotsu gave the Scorpion the Porcelain Mask of Fu Leng, now cleansed of all Taint. [6] The Emperor Naseru requested Bayushi Paneki give the Mask to him. Naseru then used the mask to disguise his identity as he wandered Rokugan in search of enlightenment. [7]
Destruction
Edit
In the Battle of the Tomb Naseru used the power of the Mask and the tattoo given to him by Dragon Clan Champion Togashi Satsu on a suicidal attack which decimated the Shadowlands forces in the area. The mask was destroyed during the attack. [8] A shard of the mask was taken from the place by Daigotsu Rekai. [9]
Known Wielders
Edit
External Links
Edit
References
Ad blocker interference detected!
Wikia is a free-to-use site that makes money from advertising. We have a modified experience for viewers using ad blockers

Wikia is not accessible if you've made further modifications. Remove the custom ad blocker rule(s) and the page will load as expected.