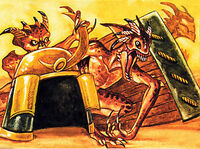 Podling were the larval form of more powerful oni. A few breeds of Oni spent time as podling before gaining the final form. Oni podlings congregated in swarms consuming anything wounded, dead or weaker. They were quite varied in shape, but always repulsive. [1]
See Also
Edit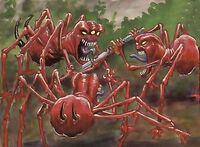 External Links
Edit
References
↑ Creatures of Rokugan, p. 61
Ad blocker interference detected!
Wikia is a free-to-use site that makes money from advertising. We have a modified experience for viewers using ad blockers

Wikia is not accessible if you've made further modifications. Remove the custom ad blocker rule(s) and the page will load as expected.