The Plains of Foul Tears was located between the Spine of the World Mountains and the Twilight Mountains, east bordering the Shinomen Forest. Kyuden Toketsu was built nearby. [1]
Appearance
Edit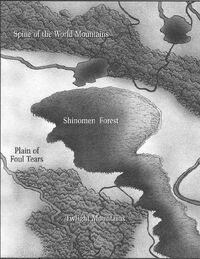 The plains were a wide strip of spoiled and putrid terrain, dotted with swamp, marsh, thicket, and rubble. They were named so by a Hida explorer in the 4th century. Located north of the Kaiu Wall, the Plains were not protected by anyone. For the Unicorn it provided a natural barrier to the Shadowlands. [2]
External Links
Edit
References
Ad blocker interference detected!
Wikia is a free-to-use site that makes money from advertising. We have a modified experience for viewers using ad blockers

Wikia is not accessible if you've made further modifications. Remove the custom ad blocker rule(s) and the page will load as expected.