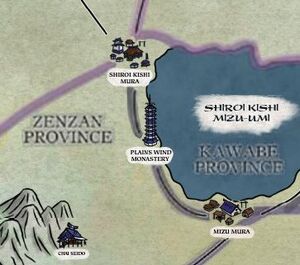 Plains Wind Monastery was a small but prominent monastery within the Unicorn lands devoted to Kuroshin, the Fortune of Agriculture. [1] It was located along the eastern border of the Zenzan province. [2]
Lords of Death
Edit
In 1161 the monks announced to the Brotherhood of Shinsei their intention to change its predominant focus to worship of the Shi-Tien Yen-Wang, the so-called Lords of Death. The rest of the Brotherhood was shocked by this potentially blasphemous declaration. Most of the Brotherhood shun Plains Wind Monastery and avoided contact with its monks until the later ascension of Toturi III, who officially recognized the status of the Shi-Tien Yen-Wang as minor Fortunes. [1] To act as a bridge between the Moto Death Priests and the rest of the Brotherhood, the monks of Plains Wind added the worship of Emma-O. [2]
References
Ad blocker interference detected!
Wikia is a free-to-use site that makes money from advertising. We have a modified experience for viewers using ad blockers

Wikia is not accessible if you've made further modifications. Remove the custom ad blocker rule(s) and the page will load as expected.