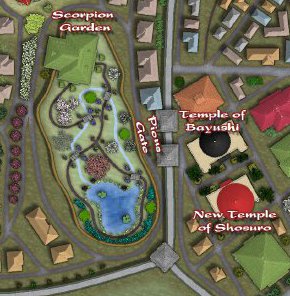 The Pious Gate, also known as the Sevenfold Gate, was between the Noble Quarter and the Temple Quarter of Ryoko Owari Toshi.
Appearance
Edit
Across the top was the Lucky Boat of the Seven Fortunes carved from the local green limestone. The brass fronted doors were gifted by the Crane Clan on the city's 500th anniversary. The sides facing the Temple Quarter each contained eight panels depicting events from the lives of Hantei Jimmu Tenno and the Seven Kami. The sides facing the Noble Quarter had eight panels depicting events from the lives of Shinsei and the Seven Thunders. It was called Sevenfold Gate for this depiction of seven Thunders, Fortunes and Kami. [1]
References
↑ City of Lies: Player's Guide, p. 33
Ad blocker interference detected!
Wikia is a free-to-use site that makes money from advertising. We have a modified experience for viewers using ad blockers

Wikia is not accessible if you've made further modifications. Remove the custom ad blocker rule(s) and the page will load as expected.