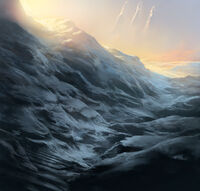 The Pillars of Virtue (D5) was a Dragon holding of the Togashi Order and its tattooed monks. [1]
A simple torii arch stood before three enormous stone spires, each topped with a statue representing one of Togashi's first followers, members of the tattooed order. Although their names had been long forgotten, each of these three monks represents one basic aspect of the Togashi philosophy: wisdom, morality, and discipline. Few outside of the order were aware of its existence, and even fewer have ever visited it, an act of the greatest respect to them. [2] The actual spires had been hollowed out over the years, to allow monks to remain meditating within them for days at a time. While monks had been known to disappear after going to the Pillars of Virtue, no dead body had ever been found. [3]
External Links
Edit
References
↑ Legend of the Five Rings; Fourth Edition, p. 342
↑ The Atlas of Rokugan, p. 76
Ad blocker interference detected!
Wikia is a free-to-use site that makes money from advertising. We have a modified experience for viewers using ad blockers

Wikia is not accessible if you've made further modifications. Remove the custom ad blocker rule(s) and the page will load as expected.