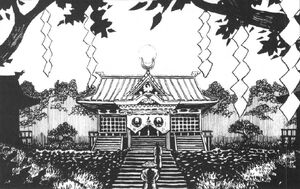 The Embassy of the Phoenix at Otosan Uchi was located in the Kanjo district. It was hidden from the view by a moat-like water garden and groves which surrounded its low buildings. [1]
Resident Master Shugenja
Edit
The Phoenix Embassy was hosted by a resident master shugenja, commonly one of the Elemental Masters or someone elected by them. Prior to the Scorpion Coup the Master of Void Isawa Ujina served this position. [1]
Scorpion Coup
Edit
The embassy was lost during the Scorpion Coup and it was rebuilt. [2]
References