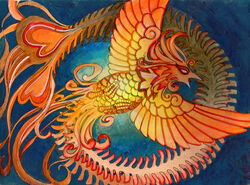 The Phoenix was a fiery bird of great honor and insight, [1] and the symbol of the Phoenix Clan.
Ki-rin and the Phoenix
Edit
It was said that the Ki-rin and the Phoenix, the two fabled creatures, were brothers. [2]
The tale of the Phoenix and the Scorpion
Edit
The scorpion came to Phoenix in his high mountains and gave him a gift. The magical bird knew scorpion had tricked other creatures and did not take it. The gift was left, and any who pass could take it. The phoenix pondered what to do, and after a whole night it had not decided if to accept it, or to leave it. The next morning he saw Scorpion watching him and laughing, Phoenix had nothing more to say. [3]
Shiba and the Phoenix
Edit
When the Phoenix Clan was young, there was great tension between the family of Shiba and of Isawa. Isawa resented the Kami being above him because of an accident of birth, and the followers of Shiba resented Isawa for his failure to properly respect the Kami. Shiba could tell that tensions within his clan were reaching a breaking point, though he did not know how to solve the problem.
The answer finally came to him one night in a dream. Shiba had a vision that he was visited by a magnificent fiery bird. The bird explained that it was composed of all five elements, and was the whole universe. It also told Shiba that it and he were the same, saying "You are not separate, but one and the same. I am the reflection of your soul just as you are the manifestation of mine. We are death reborn, immortality through a thousand lifetimes. We are the cycle of the cosmos, spinning in patterns as old as time. We will die in flames, only to rise again and again until the sky itself collapses. We are the Phoenix -- the Eye of Eternity."
Shiba awoke and ran to the city square of Gisei Toshi, where he rang the summoning bell. The people of the city assembled, and he told them that the time for bickering and division was past, and that henceforth they would be the Phoenix Clan. [4]
See Also
Edit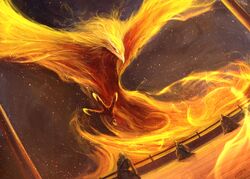 References
Ad blocker interference detected!
Wikia is a free-to-use site that makes money from advertising. We have a modified experience for viewers using ad blockers

Wikia is not accessible if you've made further modifications. Remove the custom ad blocker rule(s) and the page will load as expected.