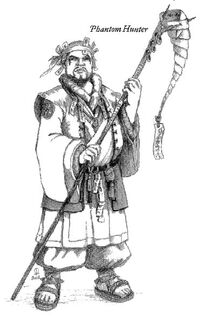 Phantom Hunters, Reiryoshi, [1] or Yorei-Ryoushi, [2] were a group of Toritaka bushi and Kitsu Sodan Senzo that searched for restless yorei and brought them peace. They came to the public eye with the printing of Gakiken, a resource on ghosts and hauntings. The book, written by Toritaka Iemasa, a former Kitsu, forged the relation between the Toritaka and Sodan Senzo. [3]
Known Phantom Hunters
Edit
References
Ad blocker interference detected!
Wikia is a free-to-use site that makes money from advertising. We have a modified experience for viewers using ad blockers

Wikia is not accessible if you've made further modifications. Remove the custom ad blocker rule(s) and the page will load as expected.